2013 Northwest Outdoor Activity Vehicle of the Year
Snoqualmie, Wash. – April 22, 2013 – The Northwest Automotive Press Association (NWAPA) today crowns the 2014 Jeep Grand Cherokee as the 2013 Northwest Outdoor Activity Vehicle of the Year. The 2014 Jeep Grand Cherokee demonstrated outstanding performance, features and value after rigorous testing during NWAPA's annual Mudfest competition. This is the event's 19th year.
More than 30 NWAPA automotive journalists attended Mudfest 2013 at the 310-acre DirtFish Rally School site in Snoqualmie. They spent two days doing on- and off-road testing on courses designed to simulate extreme driving situations the vehicles might encounter. Journalists tested 23 vehicles from 13 manufacturers to select winners in five categories: compact class, luxury compact class, family class, luxury class, and off-road class. From these, journalists selected their choice for overall winner.
There were many excellent entries in each vehicle category, but the vehicles below were a cut above the rest:
Best Overall: 2014 Jeep Grand Cherokee Overland 4×4
Best Compact: 2013 Hyundai Santa Fe Sport AWD 2.0T
Best Luxury Compact: 2013 Acura RDX AWD Tech
Best Family: 2014 Subaru Forester 2.0XT Premium CVT
Best Luxury: 2014 Jeep Grand Cherokee Overland
Best Off-road: 2013 Jeep Wrangler Unlimited Rubicon 10th Anniversary 4×4
On-road testing consisted of a wet pavement autocross course and public roads near the DirtFish site. For all but the off-road class, a moderate off-road course was designed with plenty of mud, ruts, gravel and dirt. Vehicles in the off-road class were subjected to a more difficult course simulating leisure off-roading that takes advantage of locking differentials, great axle articulation and approach angles.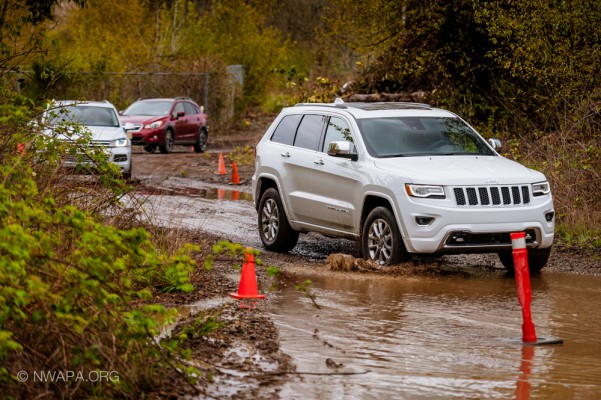 About NWAPA
NWAPA (www.nwapa.org) is a professional trade organization of automotive journalists from throughout the Pacific Northwest and Canada. Founded in 1991, NWAPA includes 45 voting members, representing more than 100 newspapers, magazines, radio stations, media groups and the Internet. Non-voting members are comprised of representatives from automotive manufacturers and related industry professionals.